'Paris Les Années Folles – Music For Guitar en Piano' – Duo Adentro • cd
Componist(en):
Darius Milhaud

Francis Poulenc

Arthur Honegger

Manuel Maria Ponce

Frank Martin

Heitor Villa-Lobos

Igor Stravinsky

Maurice Ravel

Erik Satie

Bohuslav Martinu
Artiest(en):
Duo Adentro

Saskia Van Herzeele – piano
Maarten Vandenbemden – gitaar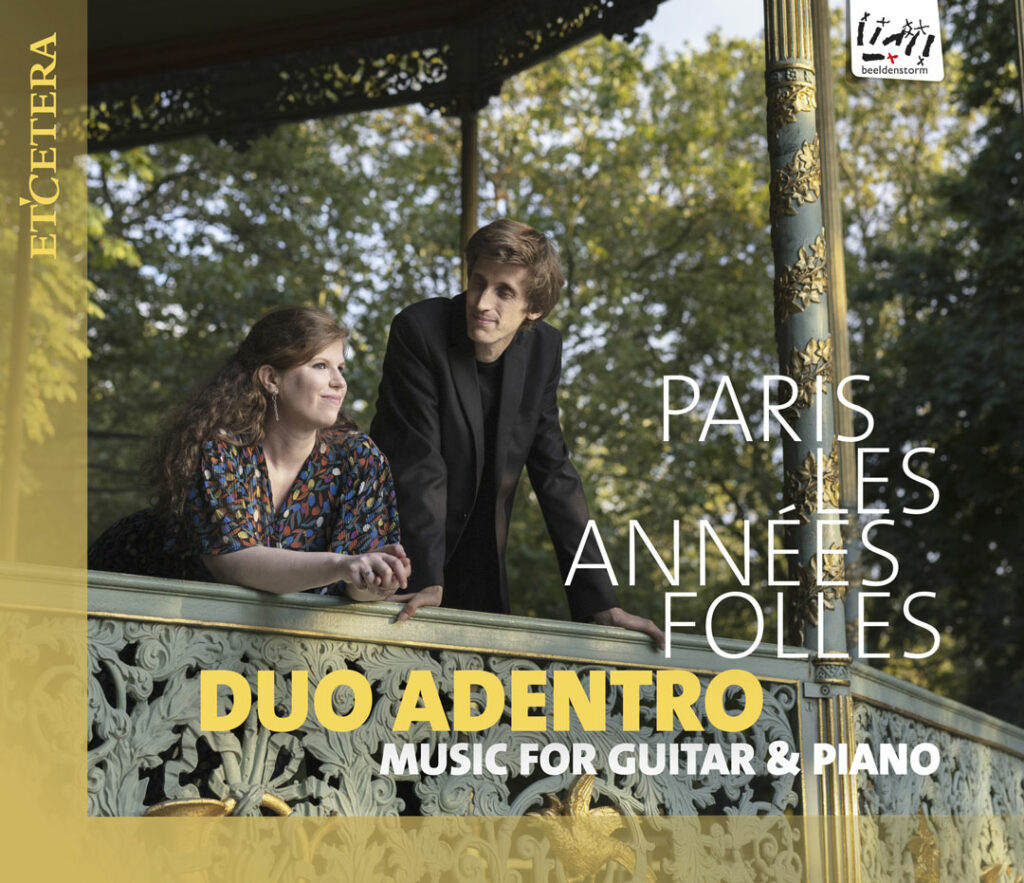 Et'cetera • ET'CETERA RECORDS
Deze cd is te koop voor €21.50 per cd incl. BTW.
Paris Les Années Folles. Paris, in the 1920s. The world was recovering from the devastation of the Great War as well as from the Spanish influenza epidemic that had killed an uncountable number of people. Paris became the bustling epicentre of a new
era: visitors plunged into a whirl of beauty and pleasure in its salons and bars. The music of the period is a continuous celebration of existence, displaying a desire for excess and sensual pleas- ure as well as an exuberant zest for life.
The parallels with the present day are clear, although we hadn't imagined a new pandemic when we first discussed our ideas for the CD. We were fascinated by the vibrant atmosphere of the Parisian cafes and the artistic venues of the 1920s and couldn't wait to immerse ourselves in that legendary era. Our immersion became even more profound when the world closed in on us and we couldn't make music together for a long time. Now that a normal concert life is gradually returning, every musical interaction is — even more than usual — a celebration.
This experience in our own time makes it easier
for us to imagine how the world suddenly
opened up in Paris in the 1920s. Musicians from
all over the world flocked to the City of Light to
study and to be inspired by each other. As European composers sought and found new muses in other lands, the meetings between these artists from every corner of the world created an effervescent melting pot of music.
We invite you to join us in a glass of wine or absinthe at our table in the café Le Boeuf sur
le Toit, where we will enjoy the entertaining company of Coco Chanel, Jean Cocteau, Igor Stravinsky, and Erik Satie… with the melodies of the musical heroes of the time, transcribed for the first time for guitar and piano, as a back- ground. Bienvenue!
Duo Adentro
Brussels, November 2021